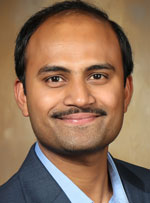 Welcome to our new provider!
Pavan Bhamidipati, MBBS,
is board certified in internal medicine and board eligible in hematology-oncology and has joined CentraCare Clinic. He received his medical degree from Guntur Medical College in India. He completed his residency in internal medicine at Michigan State University and his fellowship in hematology-oncology at Washington University School of Medicine in Missouri. Dr. Bhamidipati's special clinical interests include hematological malignancies (leukemia, lymphoma, myeloma) and immunotherapy. In his free time, Dr. Bhamidipati enjoys shopping and exploring malls and new places.
Healing series
Screening increases the chances of detecting certain cancers early, when they might be easier to treat. Join us for free cancer screening and prevention from 5-7 p.m. Nov. 13. Learn about prevention for many types of cancer, tour the giant colon, receive a free skin cancer screening and radon kit and talk with our health care professionals and registered dietitian. Learn more.
Interactive kitchen
Coborn Healing Center is now open! See the variety of services offered to cancer survivors and caregivers to support the Mind, Body and Spirit. This month we are featuring our Interactive Kitchen and healthful eating class called, Dietitian's Dish. Join our registered dietitian to learn the basics and make healthy recipes. Class topics rotate and include Healthful Eating, Ancient Grains, Eating Well on a Budget and more. Classes are held the first Tuesday and third Thursday monthly. Free for cancer patients of Coborn Cancer Center and their caregivers.

See November event calendar.
November is Lung Cancer Awareness Month
Lung Cancer is the second most common cancer and leading cause of cancer death in the United States. Learn about our Pulmonary Rehabilitation Program.

How can you lower your risk?
Quit smoking. The most important thing to prevent lung cancer is to not start smoking, or to quit if you smoke. Sign up for our Outpatient Nicotine Dependence Program. Learn about cancer prevention.