Meet our newest cardiologist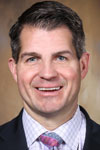 Paul Sander, MD, earned his medical degree and cardiology fellowship at the University of Minnesota. He completed a health care MBA at the University of St. Thomas in St. Paul. Dr. Sander is board certified in cardiovascular disease, nuclear cardiology and cardiovascular computer tomography.
CentraCare assists community in getting outdoor AED access
If you needed a defibrillator to save someone's life, would you know where to find one? Would you be able to access it? With the assistance of some Central Minnesota residents, businesses and Stearns County Sheriff Steve Soyka, the CentraCare Heart & Vascular Center is helping with a comprehensive map of AED locations and grants for outdoor AED stations. Read the St. Cloud Times story.