Meet our newest electrophysiologist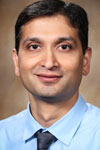 Hardik Doshi, MD, MPH, recently joined the CentraCare Heart & Vascular Center. He earned his medical degree from M. P. Shah Medical College in Jamnagar, India, and completed fellowships in cardiovascular diseases and clinical cardiac electrophysiology at the University of Iowa in Iowa City. Dr. Doshi is board certified in nuclear cardiology, echocardiography, cardiovascular disease and clinical cardiac electrophysiology.
CentraCare
–
St. Cloud Hospital receives Get with the Guidelines Awards
Recently the American Heart Association/American Stroke Association recognized CentraCare – St. Cloud Hospital with Get with the Guidelines®-Resuscitation awards for implementing measures that improved quality of care of those who suffer cardiac arrests within the hospital. We received Gold Plus recognition for both adults 18+ and newborns/neonates and Silver Plus for pediatrics.