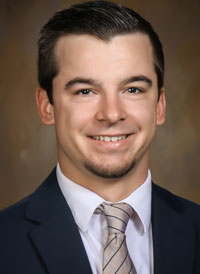 Welcome Alexander Omann, OD
The CentraCare Eye Center in Sartell welcomes
Alexander Omann, OD,
to its eye care team.
"I am excited to be able to provide comprehensive eye care to the community I grew up in."
Dr. Omann has clinical interests in contact lenses along with the diagnosis and management of ocular disease. He received his undergraduate degree from the University of Minnesota and completed his degree in optometry from Western University of Health Sciences in Pomona, Calif.
Are Your Kids Putting Their Eyewear to the Test?
These days kids' eyewear offers unsurpassed durability and comfortable fit. Check out the collection at the Optical Shop at CentraCare Eye Center, featuring great styles and colors in a variety of eye shapes and sizes. Frames are multi-hinge constructed from medical rubber that can flex 270 degrees and jump back to their original position. Dual injection frames are hypoallergenic so parents can rest assured their kids aren't putting harmful chemicals on their skin. The result is safe, functional eyewear built to withstand the active lifestyle of today's children. Current prescriptions accepted from all eye doctors. For details, call 320-229-5134. Hours are 8 a.m. to 5 p.m. Monday-Friday. Find us at 2000 23rd St. S., Sartell.