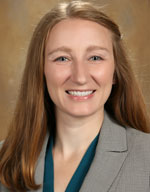 Welcome to Elizabeth Tacl, MD
CentraCare welcomes
Elizabeth Tacl, MD,
to its
General Surgery
team. Dr. Tacl is excited to return to St. Cloud and have the opportunity to follow in the footsteps of her father who has provided family medicine to the St. Cloud area for nearly 40 years.
"I am incredibly honored to follow him into medicine and serve the same community he dedicated his life to," she said.
Dr. Tacl enjoys working with patients through challenging times and the problem-solving and intellectual challenge of medicine. Dr. Tacl is board- certified in Surgery (general surgery). Her clinical interests include endocrine surgery (thyroid, parathyroid, adrenal), laparoscopic, hernia and acute care surgery.
Dr. Tacl completed medical school at the University of Minnesota, residency at the University of South Dakota and fellowship in endocrine surgery at the University of Calgary in Canada. Outside of work, she enjoys running, road biking, kayaking, camping, reading, hiking and traveling.