Fresh tips to reduce stress
The Christmas countdown is underway. We all face stressful situations each day, but the holidays — and all they include — can take it to another level. View our full list of tips to help you reduce stress.
Ready for a health makeover?
Lose weight and gain a lifetime of health with the L.I.F.E (Lifestyle, Food & Exercise) Program, led by David Kroska, MD, CentraCare Clinic. The program is based on sound, scientific data proven to enhance health and prevent disease. No drugs, no tricks, no gimmicks, no supplements! Through your diet-to-health transformation, you'll come to appreciate how flavorful good eating can be. Food sampling included! Get the details on this nine-week course beginning January 9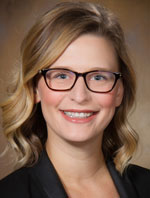 Welcome to our newest CentraCare Clinic – Health Plaza Obstetrics & Women's Health provider!
Erin Hennen, MD, is originally from St. Cloud and attended Cathedral High School. She completed her medical degree at the University of Minnesota and her obstetrics and gynecology residency at TriHealth in Cincinnati. Dr. Hennen's special interests include high-risk obstetrics, minimally invasive robotic assisted gynecologic surgery, management of abnormal uterine bleeding and contraceptive counseling. Outside of work, she enjoys spending time with family and friends at the lake and traveling, as well as trying new restaurants and foods. After her time away, Dr. Hennen is excited to return home to start her OB/GYN practice serving the St. Cloud and greater Central Minnesota area.