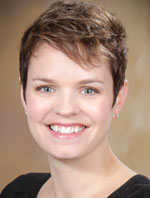 Welcome to the newest provider at CentraCare Clinic -

Health Plaza Obstetrics & Women's Health!
Maggie Thronaum, DO, completed her medical degree at Des Moines University in Iowa and her obstetrics and gynecology residency at St. John Providence Hospital System in Warren, Mich. Her special interests are contraception, reproductive medicine and obstetrics. Outside of work, Dr. Thronaum enjoys reading and spending time with her family.
Mindfulness and Meditation
Does the constant barrage of information, demands of daily life and pressure to multitask leave you stressed and overwhelmed? Take time for yourself at our six-week, small group course that introduces techniques from the Mindfulness Based Stress Reduction (MBSR) Program and demonstrates how they can be incorporated into your daily life. The class allows time to practice and discuss skills. Register today.
Patient & Family Partner Program
Are you someone that wants CentraCare to be their best for you? We have the perfect opportunity for you to offer advice, information and recommendations to support patient care, planning, policies and procedures. Learn more about this great opportunity to be part of our Patient & Family Partner Program.
Challenge yourself in 2018
Challenge yourself to one of the many events at the CentraCare Earth Day Run April 20-21. Registration is now open for the SCHEELS Half Marathon, St. Cloud Subaru 5K or BLEND 1K