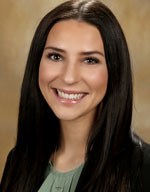 Welcome to

Samantha Gartner, PA-C
CentraCare General Surgery welcomes Samantha Gartner, PA-C, to its team. "I love the opportunity to build relationships with patients, helping to ease their nervousness or discomfort before surgery. It's rewarding to know you are part of making a person feel better."

As an Annandale native, Samantha earned her Bachelor of Science in biology at North Dakota State University in Fargo and completed her physician assistant studies at St. Ambrose University in Davenport, Iowa. Outside of work, Samantha enjoys spending time with her husband and their dog, as well as family and friends. Her hobbies include being at the lake, traveling, hiking and doing her fitness routine.
Why Staying Connected Matters
This spring has been long and cold, but staying connected with others helps warm your heart and contribute to health and happiness. According to the National Institute of Health, loneliness and social isolation are different, but related. Loneliness is the distressing feeling of being alone or separated, while social isolation is the lack of social contacts and having few people to interact with regularly. You can live alone and not feel lonely or socially isolated, and you can feel lonely while being with other people.

The Bounce Back Project encourages social connections with others to help reduce the impact of stress in our lives. A sense of belonging contributes to a happy, healthy and rewarding life. Here are some helpful tips for staying connected.
Stay Active and Independent for Life (SAIL)
SAIL is a strength, balance and fitness program designed for adults 65 and older. Each free, online class includes a warm-up, aerobics, balance exercises, strength exercises and stretching. Exercises can be done seated or standing. Performing exercises regularly that improve strength, balance and fitness is the single most important activity adults can do to stay active and reduce their chances of falling.